CIB Internship Programme
If you have completed your bachelor's or master's degree, you have the opportunity to invest in your future by starting your career in Investment Banking. We are looking for dedicated people who want to learn from the best professionals and obtain an official qualification.
CIB Internship Programme
Take a look:
---
Graduates in:
Business Management and Administration
---
 Economics
---
 Engineering

---
 …
---
Location: Barcelona and Madrid

Registrations closed
General information
We offer 20 scholarships in Investment Banking, specifically in the Structured Finance (Middle Market) and Wholesale funding (Debt Asset Management, Debt Capital Markets, Mergers & Acquisitions (M&A) and Equity Capital Markets (ECM)) teams.
You will be part of a leading team that will support you in your practical training and, in addition, you will have the opportunity to complete the Master's Degree in Business Management at the Universitat Autònoma de Barcelona (CITIUS Programme).
What will your responsibilities and duties be?
In the area of Structured Finance:
You will analyse financing transactions to provide customers with greater visibility regarding the product offered.
You will assist in the preparation of proposals and commercial documents.
You will analyse financial reports and prepare projections.
You will analyse the current debt structure and future needs and prepare the financial model.
You will prepare financing offers and TS negotiation.
You will prepare risk files in collaboration with Risks.
You will agree with Syndication the strategy of the operations in which BS is agent.
You will carry out the contractual review in coordination with Legal and external advisors.
In the field of Wholesale funding:
You will prepare pitches, industry studies and company profiles.
You will assess companies based on income approach methods, LBOs, precedent transactions and listed comparables.
You will prepare transaction documentation (e.g. sales booklets, teasers, presentations, prospect lists, and calendars of company sales processes).
You will manage the organisation, coordination and analysis of data rooms, management team presentations, site visits and other sales process activities.
You will prepare, manage and attend due diligence meetings and expert sessions.
Where and when will you start?
The 20 places offered are at our corporate centres in Barcelona and Madrid.
Start date: April 2022.
The scholarship is for 1 year, with the possibility of continuing as an employee at the end of the year.
Why might the opportunity interest you?
You will learn from the best Investment Banking professionals while working on a real project.
You will be part of a team of experts with extensive experience in corporate and structured finance solutions.
You will expand your network through the collaboration and networking spaces you will have access to.

GRADUATES
Graduate in Business Management and Administration, Economics, Engineering, or similar.
Postgraduate/Master's degree in Markets, Banking and Finance is highly desirable.

LANGUAGES
Advanced level of English (min. C1)

EXCELLENCE
Identifying with Banco Sabadell's values: commitment, non-conformism, professionalism, efficiency, empathy and openness.

KNOWLEDGE
Proficient in Microsoft Office, knowledge of Bloomberg, structured finance, credit risk analysis and financial modelling is an asset.

SKILLS
Teamwork, thoroughness, pro-activeness, communication skills and being results-driven.

EXPERIENCE
To have lived, studied and/or worked abroad.Although previous experience is not necessary, a previous internship in a similar position in corporate and/or investment banking is an asset.
What do we offer you?
Traineeship agreement
Fixed monthly salary of €1,229
Financing a Master's Degree in Business Management (100% online format possible)
Support and ongoing training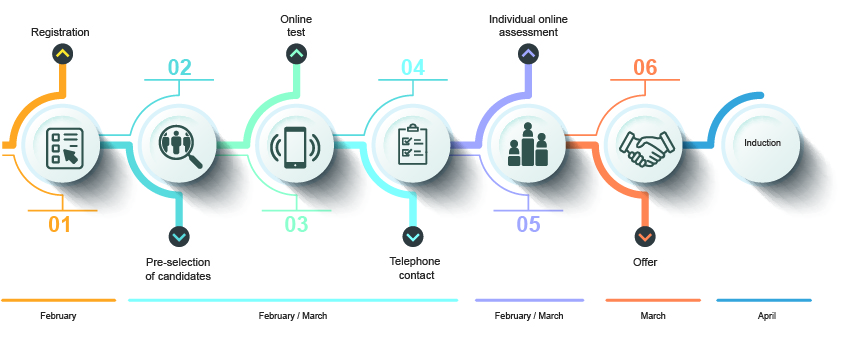 At Banco Sabadell we care about people
We promote working environments in which all people are treated with respect and dignity.
We ensure a working environment free of any discrimination based on gender, age, sexual orientation, religion, ethnicity or any other personal condition.
We promote the professional development of our workforce and guarantee equal opportunity in hiring, training and promotion.
Banco Sabadell is part of the network of companies with the "Equality in the Company" distinction awarded by the Ministry of Equality.
We are committed to society: we help people and businesses; we help the most vulnerable groups through numerous initiatives and thanks to our community of volunteers.